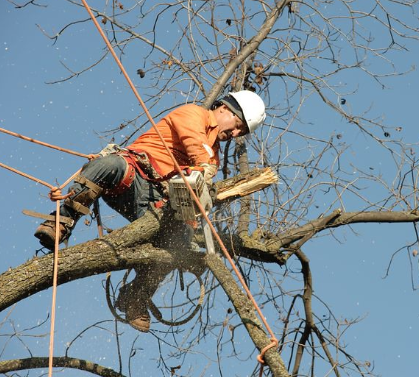 With a tree plantation on your property, you give your compound an improved curb appeal while boosting the property's value. It is also a fantastic option if you need to make your environment a more tranquil one. However, you may need to hire more skilled and experienced tree specialists to help you take care of the trees. Tree Services of Fullerton, the premier and go-to tree service company in Placentia, can help you in this case.
Talk to us now for a proposal about your project. Call us at (714) 519-2039 for free estimates.
About Tree Services of Fullerton
Tree Services of Fullerton is a company that you can trust with all your tree services. For the longest time now, we have worked for various clients on various tree types, ensuring that their plantations are healthier and with stronger trees. As a commercial or residential property owner who wants not just an experienced tree cutter but also a pro in trimming, pruning, and treating them, you will undoubtedly find us quite resourceful.
Reliable Tree Service in Placentia, CA
At Tree Services of Fullerton, we have a specialty in almost every tree service that you need. For years now, we have worked in this field, while our tree specialists bring decades of combined experience to every project, continuously delivering nothing short of the best. Contact us at (714) 519-2039 for free quotes. As a result, we have become among the most sought-after tree care service providers in Placentia, California for a variety of services, including:
Commercial and Residential Tree Service
We serve both the commercial and residential communities of Placentia. Our specialists work with industrial and business entities, learning institutions, entertainment and recreational areas, and government agencies, among others. Homeowners are also an amazing set of clients for us as we have worked for them since our business's inception.
Emergency Tree Services
When you have an emergency with fallen or breaking trees, we can be of help too. We respond quickly and will ensure to offer the best services per the need.
Tree Pruning
With our tree pruning services, you give your shrubs, bushes, and trees a chance to grow into even healthier ones. Talk to our pruning specialists and let them remove any dead, diseased, or lose twigs before they can ruin your plantation or landscape. Our team also offers tree pruning services in Cypress, California.
Tree and Bush Trimming 
We can also trim your trees and landscaping bushes. This helps get rid of overgrown branches and those that may be reaching and scratching your property.
Tree Cabling and Bracing
When your trees no longer support themselves, we can help there too. Our tree specialists have tree cabling and bracing techniques, specialties that we use to support broken branches and cracking trunks until they can support themselves naturally. If you are in La Mirada, you can also reach Tree Services of Fullerton for quality tree services.
Tree Cutting and Removal
Our tree cutting and removal specialists are on standby to help you cut trees down too. Regardless of the reason you want to remove them, we will offer the best services with our top-rated skills. Trust our personnel and get the right results.
Stump Removal
Have you cut trees down but now have to deal with the stumps left? Do not bother too much since our specialists are here to help. If you need us to remove the stumps completely, we will do it immediately.
Stump Grinding
If you do not wish to dig the ground and remove the stumps, we have yet another solution for you. Our grinding machines thoroughly do the job regardless of the stump's size or how hard it has proved to remove.
Tree Doctors
Our tree doctors and surgeons know what to do with poisoned and diseased trees. If you happen to have such trees in your yard, do not hesitate to call us and hire our tree doctors' services.
Contact Tree Services of Fullerton
If you are looking for excellent tree services in Fullerton, call us at (714) 519-2039 for free estimates around Placentia, California.