Fullerton Tree Cabling and Bracing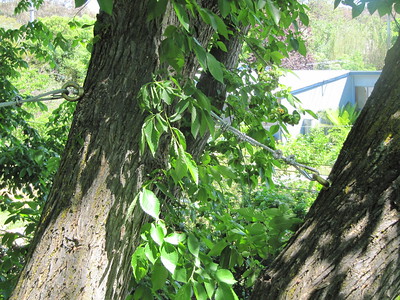 Cabling and bracing are methods of providing structural support to trees to help them survive. When it appears that there are no hopes and they have to be cut and removed, these methods often work wonders and help in restoring the health of a diseased tree or a leaning tree. Tree cabling and bracing are technical methods utilized by professional tree care services to stabilize a tree's posture. Tree Services of Fullerton has the necessary equipment and skilled employees to utilize both these support methods to save trees in the premises of our customers.
Call us at (714) 519-2039 today for free quotes on tree cabling and bracing and to find out if a dying tree in your property can be saved.
Choose Fullerton Tree Cabling and Bracing
Big trees have a wonderful support system underneath the surface in the form of strong roots. This root system keeps them standing tall in the wake of elements such as rain, winds, and even medium range storms. However, this support system weakens at times, especially when the tree is infested by an infection, or it has been constantly exposed to harsh forces of nature. Contact us at (714) 519-2039 for free estimates.
If you have noticed a few branches of the tree coming down suddenly without any reason, it must be a result of a weakened root system. At Tree Services of Fullerton, our employees deploy many different techniques of tree cabling and bracing to provide the necessary support to a seemingly dying tree.
In tree bracing and cabling, steel cables are installed in the trunk of the tree and then secured with the help of bolts and screws. In some cases, bracing is done, which implies putting steel rods in weak branches to prevent them from falling because of inadequate support. This system of cabling and bracing provides the necessary support to the limbs and trunk that is likely to fall down because of the pressure exerted by the elements.
Prevent Trees From Falling
Customers love the highly efficient tree cabling and bracing system used by our employees that keep the weakened tree from falling down. There have been many instances where a weakened root system has led to the sudden fall of a tree, causing a lot of destruction of the structures in the properties of an owner or even their neighbors'. There are several companies providing tree cabling and bracing services to clients in Orange County. However, most customers prefer us whenever they need to provide structural support to one or more trees in their properties because of the trust we have built over the years.
Purpose of Tree Cabling and Bracing:
Our tree lovers make an accurate calculation of the amount of support required by the tree after a close inspection of its condition
Installation of steel cables and rods is carried out with great efficiency and full safety in mind
We carry out regular checkups of the condition of the tree to take a decision about increasing or decreasing the amount of support
Our tree cabling and bracing is absolutely safe and efficient and is provided at very reasonable prices to our customers
Contact Tree Services of Fullerton
If there are some trees of ornamental value on your property and you fear they might fall down because of a weak support system, it is high time you took action and called in the experts like us for an inspection. Tree Services of Fullerton is the most popular tree service providing structural support to trees through cabling and bracing. Call for our services at (714) 519-2039 today to get a free and fair quote for a tree cabling and bracing service in Fullerton, CA. Together, we can save the lives of the trees!