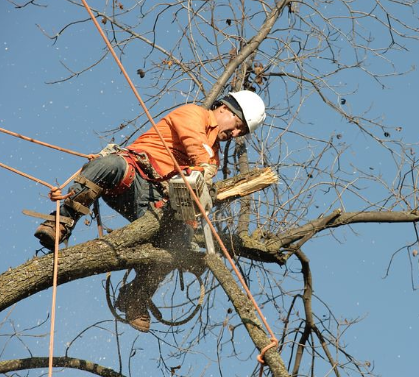 Trees serve us in so many ways. Take your Fullerton home; for example, you may have trees planted and maintained for their beauty, shade, and the overall exquisite appeal they add. Or maybe you have a large piece of land for commercial tree planting. Whatever your intentions, you will need to maintain your trees in good shape and health all season. And this doesn't happen naturally. Pests and diseases can always creep in when least expected, threatening to turn your one-time valuable forest into a liability. That's where our professional advice at Tree Services of Fullerton comes in handy. So who are we, what exactly do we offer, and why do you need us?
Contact (714) 519-2039 for free estimates.
About Tree Services of Fullerton
At Tree Services of Fullerton, we make your tree issues our business. Whether you need to have your tree cut or just trimmed, we are the professional arborists you can count on. For residents living in California and its environs, we have the right solution to just about any issue involving tree care and maintenance. We have managed to add the best arborists from the region to our ranks, with the experience, skills, and compassion that you expect to see in a professional team.
Our Services
We are an all-embracing team, offering a wide range of services to clients throughout Fullerton and the neighboring locations. You can always count on our arborists to handle the following:
Tree cutting
Tree pruning
Stump removal
Pest control
Residential emergency tree service
Tree trimming
Landscaping
Stump grinding
To ensure the best outcomes, our tree service specialists will first evaluate the situation before recommending the right solution.
When Do You Need Us?
You may need tree service in Fullerton for several reasons. It could be the usual overgrowing branches forcing you to consider our pruning or trimming services to maintain cosmetic appeal. Or the ever-annoying pests, threatening to damage your beautiful yard even after years of hard work and commitment. Again, our tree surgeons will be on standby to assess the situation and recommend the right solution. Here are more reasons you may want to consider our tree care and maintenance services:
Tree Removal and Cutting
When tree cutting is the only remaining option, it is always recommended to consider a specialist's advice to give you a stress-free process and peace of mind.
Tree Doctor
Why cut down a tree that can be saved by an expert? That's precisely why our tree arborists are here!
Stump Grinding
The stump that remains behind once a tree is removed can make for an ugly sight in your yard and even endanger your safety. Stump grinding alleviates such worries, giving you a pristine environment that raises property value.
Contact Tree Services of Fullerton
Caring for trees in Fullerton can be an uphill task and requires the best care. You'll need a tree service company that you can trust. And Tree Services of Fullerton will be your best partner through all this. Our quality and affordable services will help maintain your trees in the best shape. Having a tree problem or just a lingering question? Contact us at Contact (714) 519-2039 for free estimates. and talk to one of our experts today!