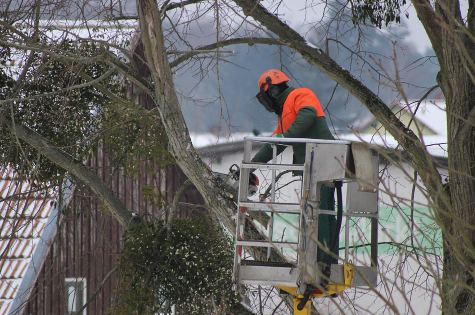 Nobody is better prepared to handle tree care and maintenance services in California than the expert arborists at Tree Services of Fullerton. Given our experience working with clients across different sectors, it's fair to say that Tree Services of Fullerton has everything you have been looking for in a tree service company. We have built our services around one idea; that all homeowners deserve top quality tree care and maintenance services from a reliable company. We are committed to creating classy backyards throughout Fullerton, and our track record speaks for itself. 
Over the years, we have served clients throughout Fullerton, covering all regions from Sunny Hills City Center all the way to Rosecrans Avenue. We believe that residential homeowners don't have to spend a fortune to give their property an exquisite look. When visual appeal becomes a priority, we are the first tree service company you should turn to for top quality services. But this doesn't mean we turn a blind eye to most other tree care and maintenance services. We are also renowned for excellent tree pruning, stump grinding, bush trimming, and landscaping services.
To know more about Fullerton tree pruning, contact us at (714) 519-2039. Call now to get free estimates.
Most Reliable Tree Service Company in Fullerton, CA
Perhaps the most challenging part of building an attractive backyard is finding a reliable tree service company. At Tree Services of Fullerton, we welcome diverse ideas and projects revolving around tree care and maintenance. Is it a recently fallen tree that's threatening your peace? Or a bushy landscape that requires trimming? Tree Services of Fullerton is only committed to giving 5-star services all season. Whether you want a comprehensive service for the whole backyard or just looking to have some quick-fire questions responded to, we have an expert team to handle everything. Simply dial (714) 519-2039.
Professional Tree Pruning Services in Fullerton, CA
Prevention is a critical aspect of tree care and maintenance that should never be taken lightly. To create a stunning backyard, a lot of your time will go into tree pruning. And you don't have to do it all alone when the specialist tree arborists are only a phone call away. We are extremely motivated to work on your next project because we know it's the right decision to make. Our tree pruning services go hand in hand with tree cutting and trimming to help you avoid emergencies that would only impede your growth. 
We prune all types of trees ranging from the apple tree to oak tree, palm tree, Douglas fir, redwood, maple tree, and lemon tree to ensure they remain in good health while increasing their durability. We all hope for a picture-perfect environment, with healthy trees that can withstand harsh climatic conditions all season. Unfortunately, this is never possible, especially when your trees are aging. Thus pruning becomes part and parcel of proper tree care and maintenance. 
In many homesteads, pests and diseases are unavoidable. Fortunately, you can always prevent them from causing substantial damage if you work with specialist tree surgeons. Some of the critical signs you should look out for before talking to our team include sunken barks, the presence of deadwood or branches, and peeling barks. 
Contact (714) 519-2039 for free estimates.