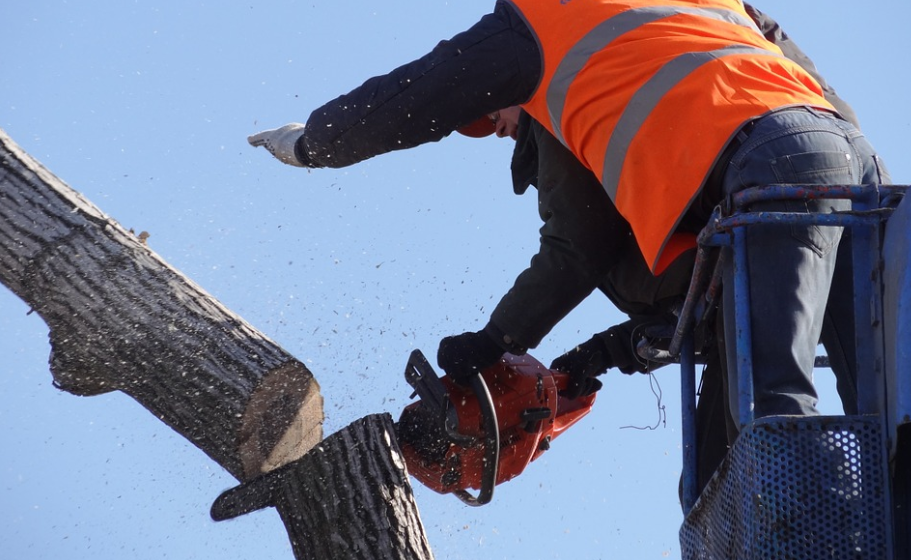 TREE SERVICES OF FULLERTON

Tree Services of Fullerton
If you're looking for expert tree care that's certain as the turning of an autumn leaf, congratulations because you're in the right place. Tree Services of Fullerton is here to help with anything the industry calls for.
We've more than one reason for this. To start with, your grade school teacher was right—trees make it possible for human beings to live on the planet. As a waste product of photosynthesis, the oxygen we breathe nourishes the blood, which in turn moves on to nourish our vital organs. And then there's the more physical sustenance trees provide—fruits and berries. (Legend has it we even used to eat the bark, but that's a story for another day).
Man has been using trees to build things ever since he figured out that it was possible to do so. A list for this segment would keep us here a long time, but just a quick look around the room is likely to demonstrate what we mean. You might see flooring, cabinetry, doors, etc., that are made of wood. Every year the United States imports billions of dollars in wood products from countries such as Canada, Brazil, China, Mexico, and Germany. This same goes for its product exportation.
Author Shel Silverstein once wrote a book called The Giving Tree. Though sad, it gave readers an accurate portrayal of all the things trees do for us. At Tree Services of Fullerton, we feel it's only right to give back. Give us a call at (714) 519-2039.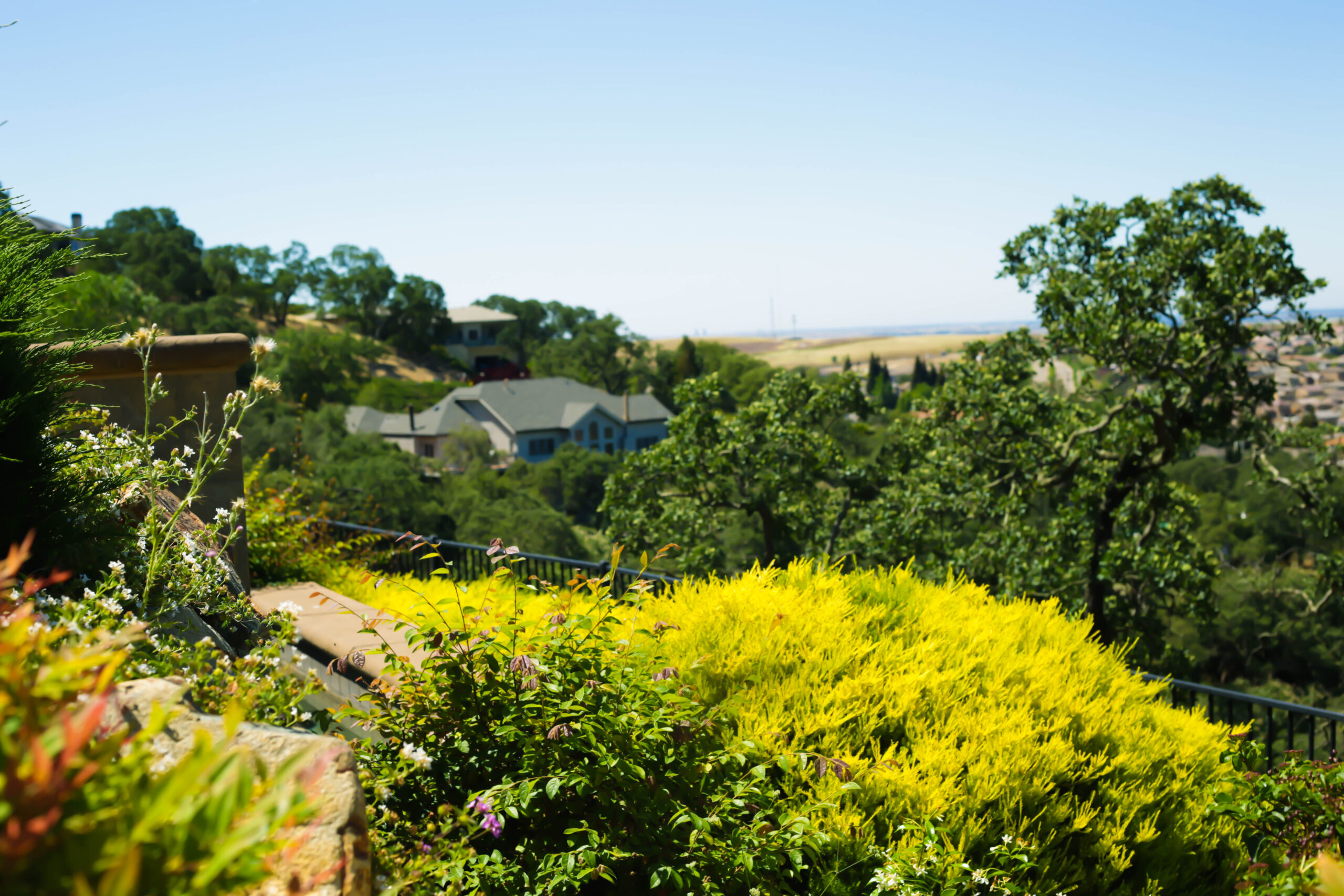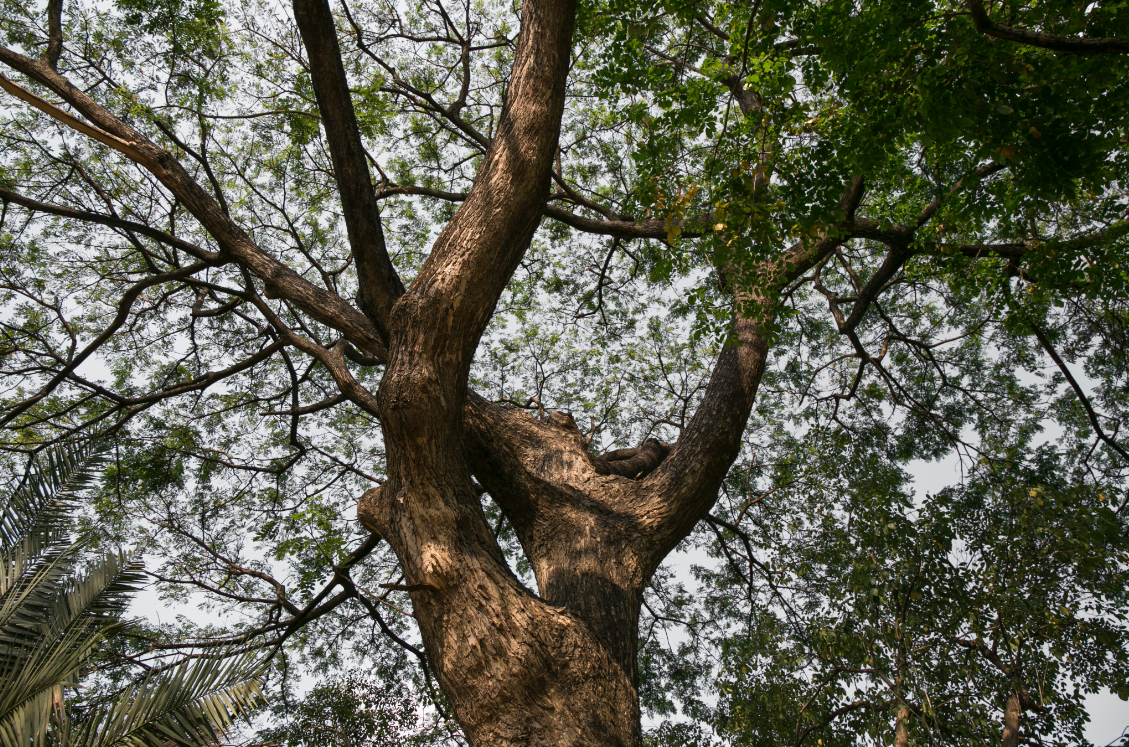 Choose Tree Services of Fullerton
Best Tree Services in Fullerton, California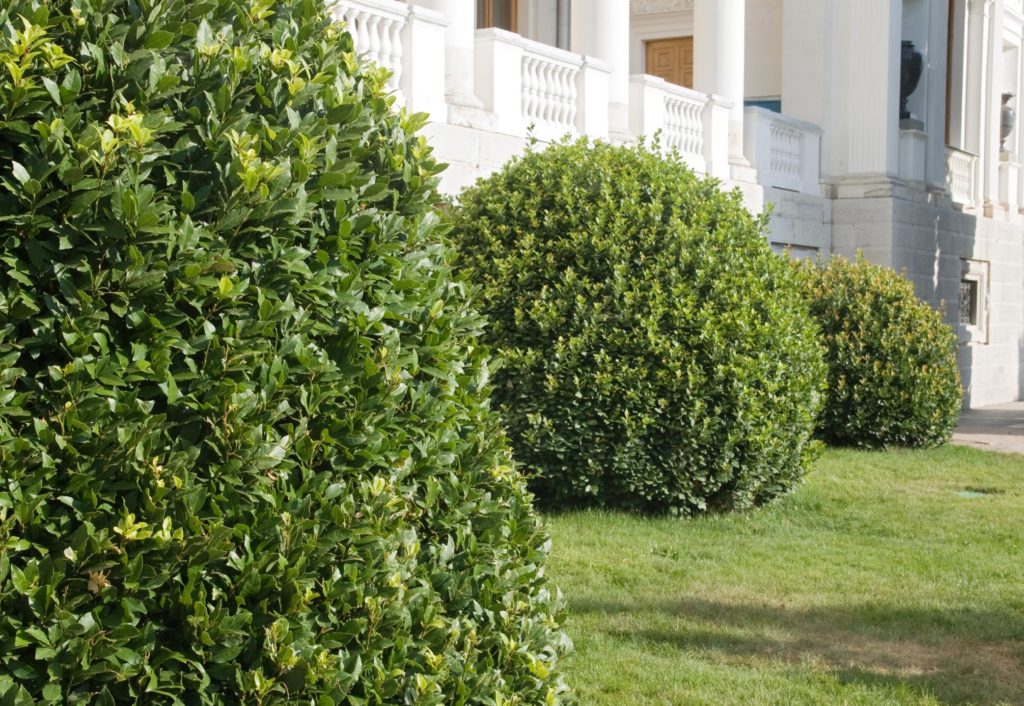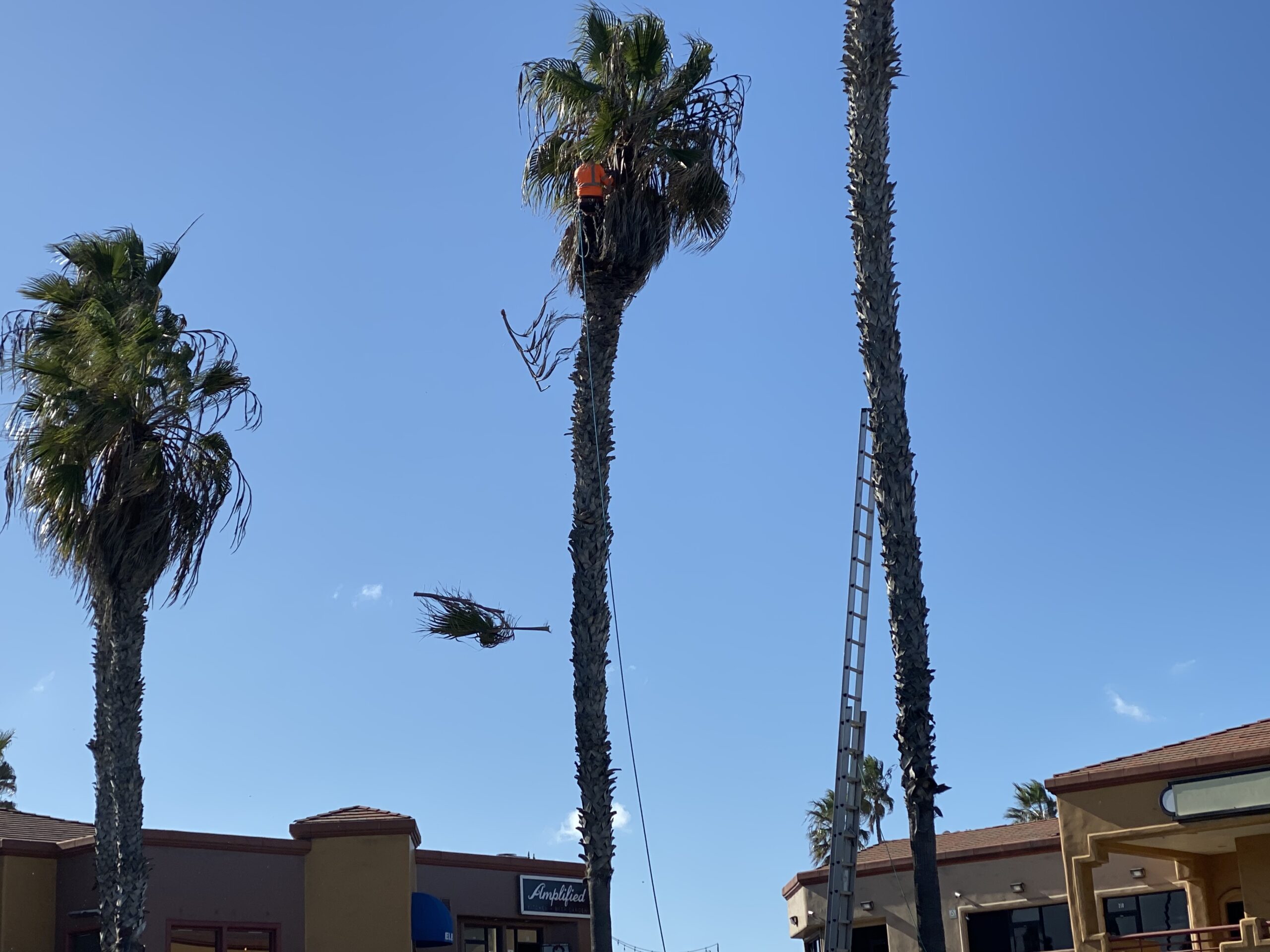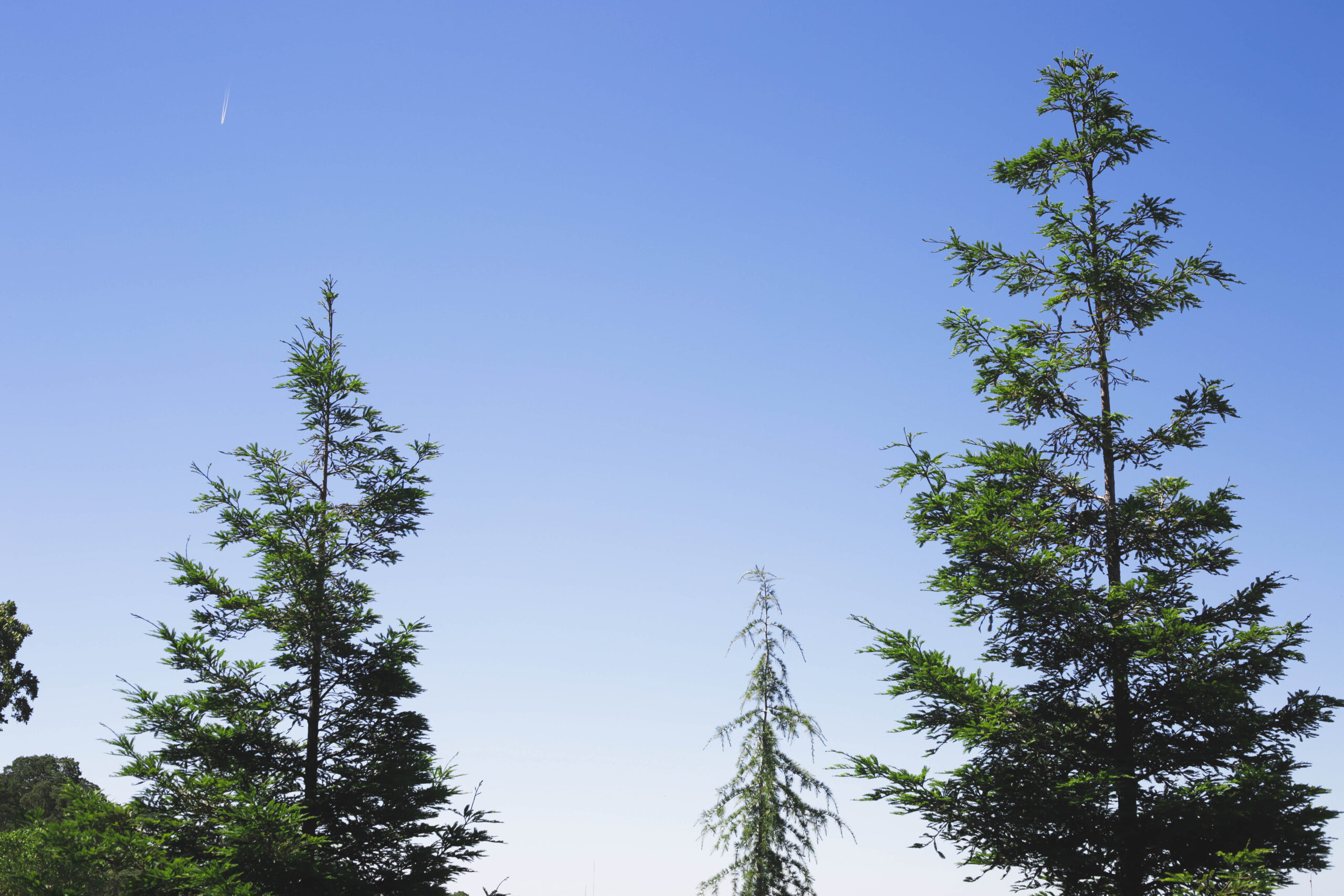 Just like animals, trees are heavily susceptible to pests. These pests can carry diseases or do serious damage all on their own. Over the past three years, the problem has been particularly bad. Since 2017 an estimated 27 million trees in and around Los Angeles have fallen ill with the infestation. It is now at the point where some tree pathologists are deeply alarmed. On the flip side, these same pathologists have noted, many trees have learned to adapt to the threat all on their own.
For the rest, it's up to us. Knowing which trees are under attack, and how to treat them, is vital to their survival. At Tree Services of Fullerton we are familiar with care tactics for many different species, including the sycamore and olive tree, two specimens particularly vulnerable to boring insects that can transmit fatal fungal diseases. To diagnose issues, we'll look for things like:
A receding canopy

Stunted growth

Premature color change

Wilted foliage

Exudates (unhealthy discharge from the bark)
We'll also examine other plant life in the area to see if the problem is spreading. Treatment is swift and professional. At our disposal are many effective methods for discouraging pests and getting your tree or trees healthy again. These methods include:
Bark spray

Canopy spray

Soil injection

Trunk injection
Our helpful, courteous staff is trained to identify and eliminate Orange County's most harmful pests. We also know just how to send the less harmful ones packing. Do remember that catching the problem early can—but doesn't always—mean the difference between life or death for the tree. If you suspect the plant-life around your home is suffering from an infestation, don't put off taking corrective measures. Give Tree Services of Fullerton a call at (714) 519-2039.
A pathogen is defined as a biological agent that causes disease or illness to its host. In Orange County, trees can fall victim to illnesses such as citrus greening, water molds, and various forms of fungus. In January of 2020, California's state even developed an expanded quarantine zone for trees carrying a citrus greening disease. The zone covered over one thousand miles. It forbid the movement of fruit over property lines where it was grown. The disease is spread by a tiny bug called the Asian citrus psyllid. It causes withered foliage and deformed fruit. Treatment can involve insecticide spraying for pests like whiteflies, mealybugs, and aphids; the spray must be applied to both sides of the tree's foliage.
We've been saving trees from the disastrous effects of pathogens for as long as we've been in business. Familiarity with different types and how they attack trees is a big reason for our success. A famous Chinese military general once said: "If you know the enemy and know yourself, you need not fear the result of a hundred battles." We like to apply this for what we do against the many pathogens that threaten our trees.
Just three years ago, the trees of downtown Los Angeles fell under attack from the Botryosphaeria fungus. This is an airborne fungus that spreads very easily, killing its victim from the inside out. Without treatment, the fungus can kill a tree in less than three years. Some of the symptoms are cankered bark that dies and breaks away, thinning canopies; wilted foliage; blackened wood, and pith. Fungicides wouldn't work for this strain, as it penetrated the bark too deeply for chemicals to reach. Instead, pruning away the sick parts of the trees was the only option. Proper watering and fertilization also contributed to bringing the strain under control.
As with the pests that sometimes carry them, tree pathogens are best treated ASAP. If you're worried that a pathogen may be attacking your trees, contact Tree Services of Fullerton at (714) 519-2039, and we'll help you with the best care in the business.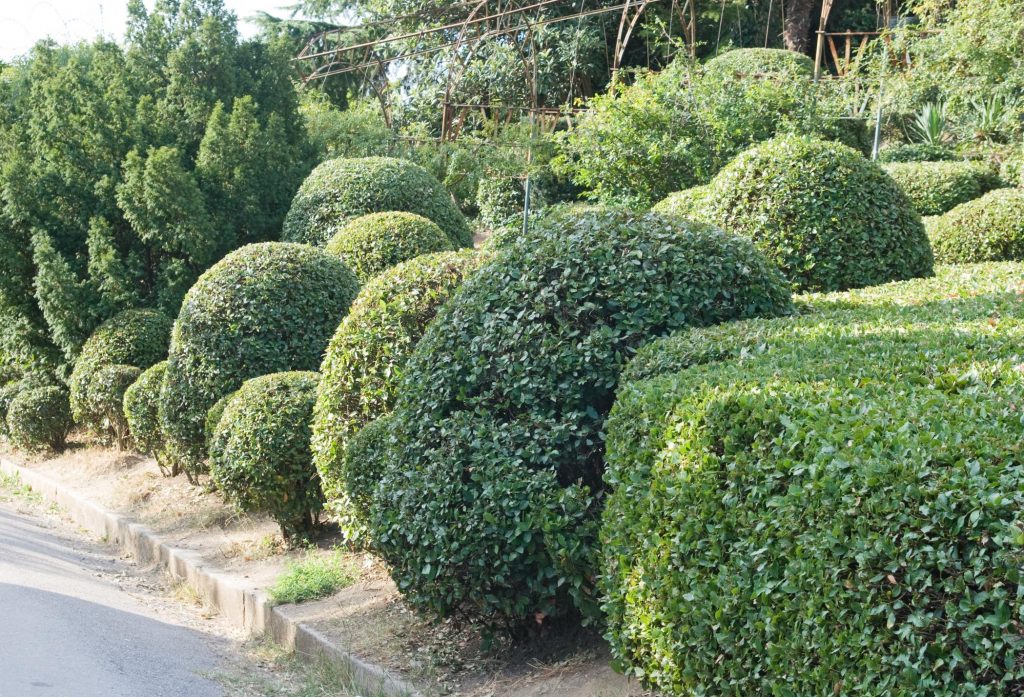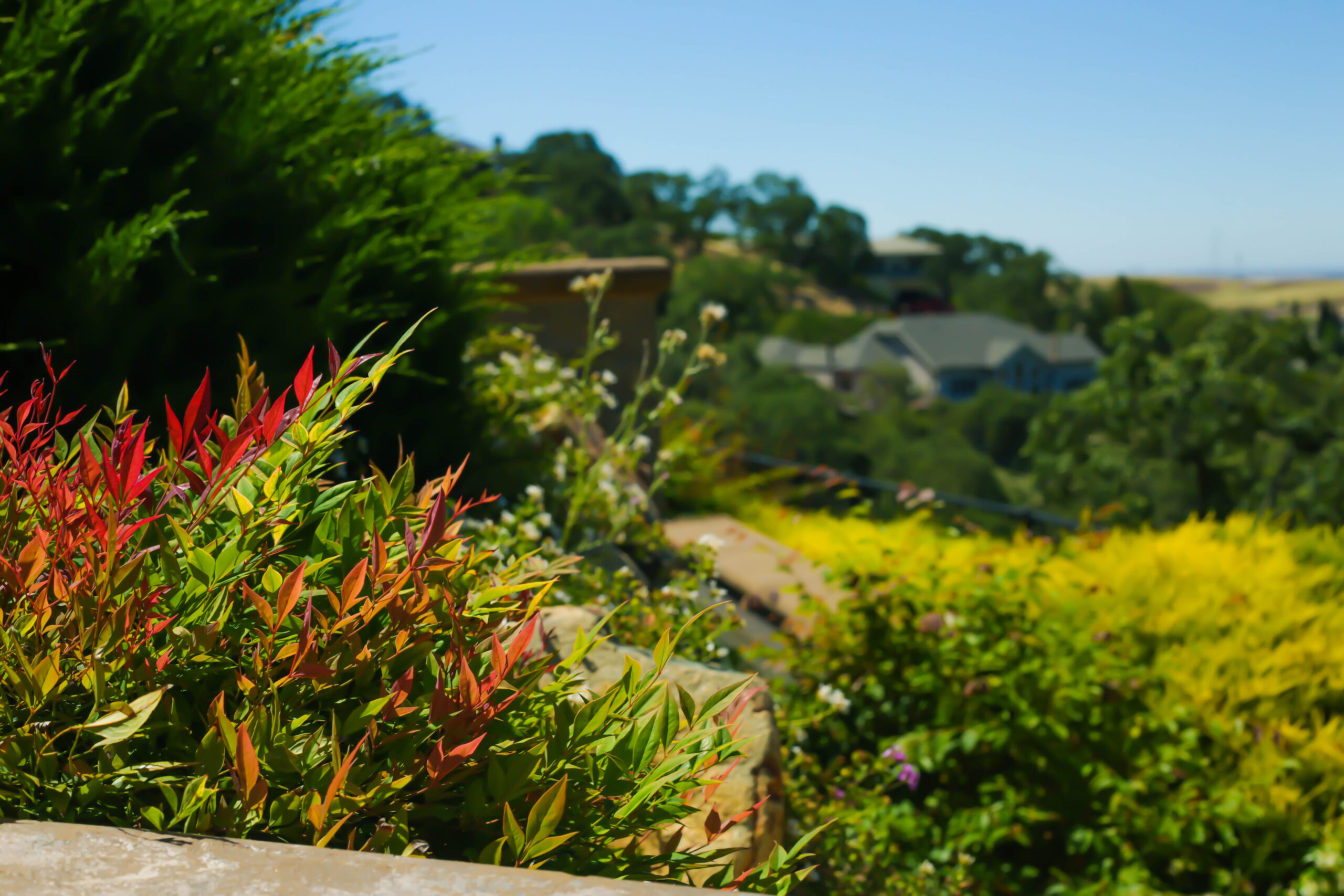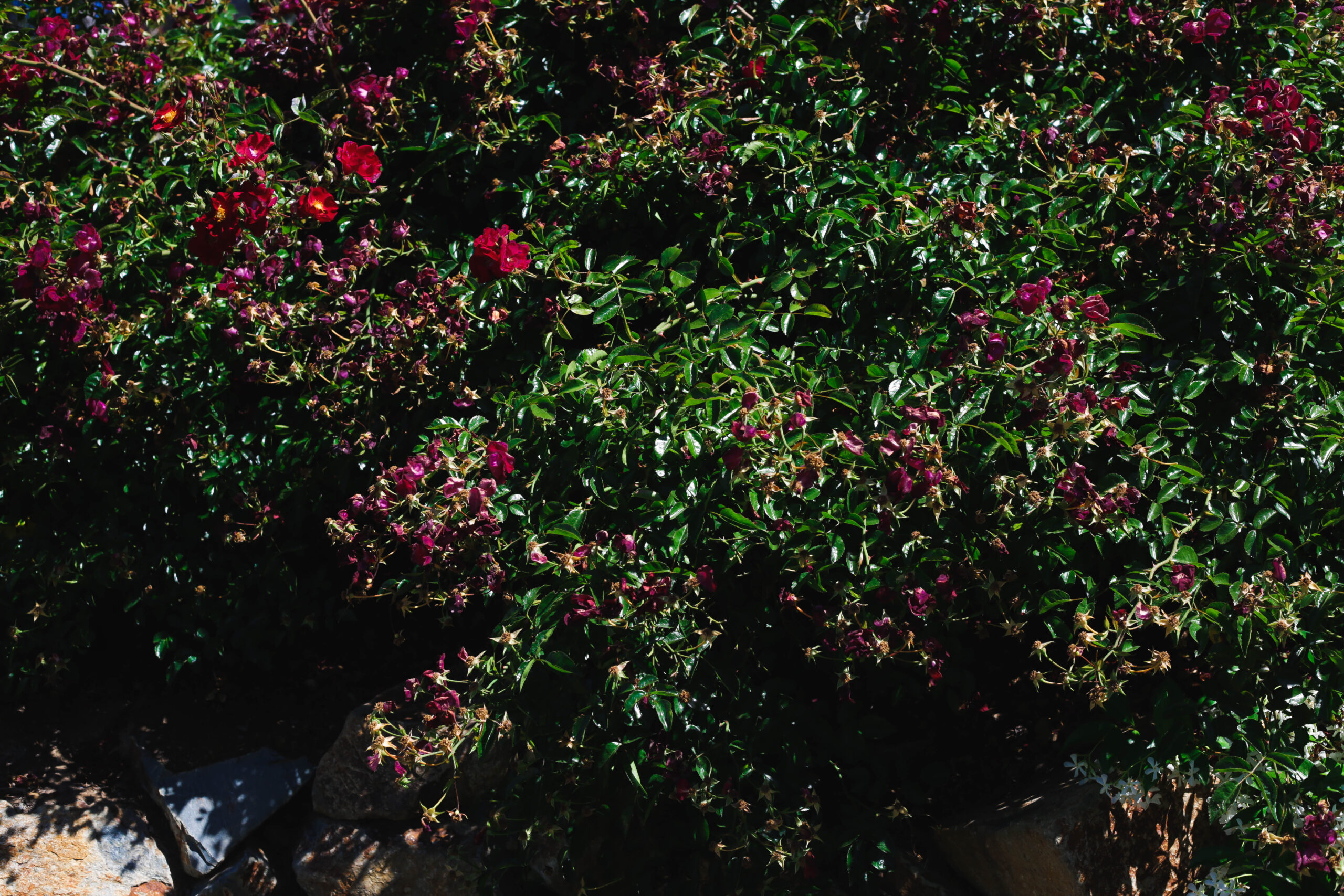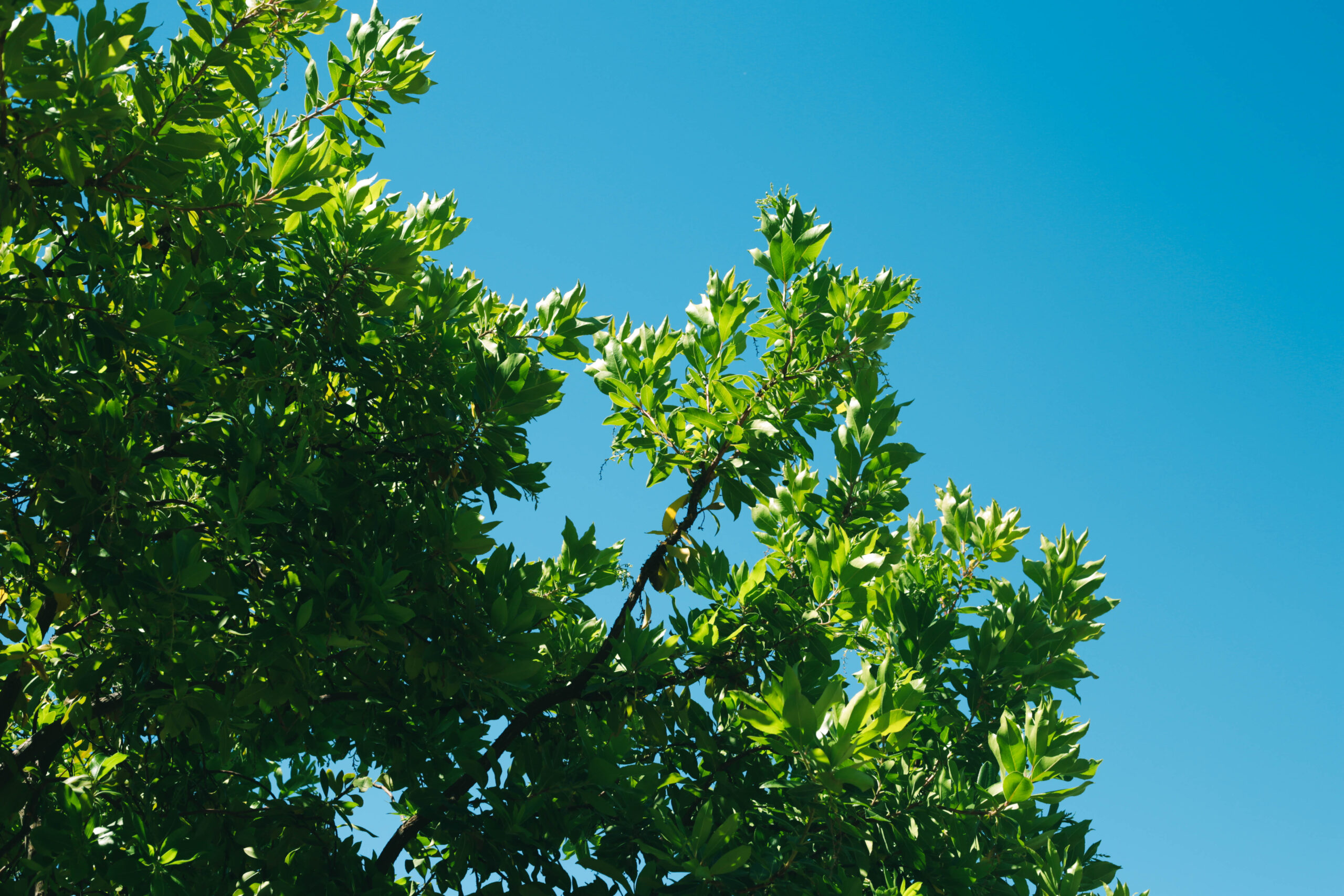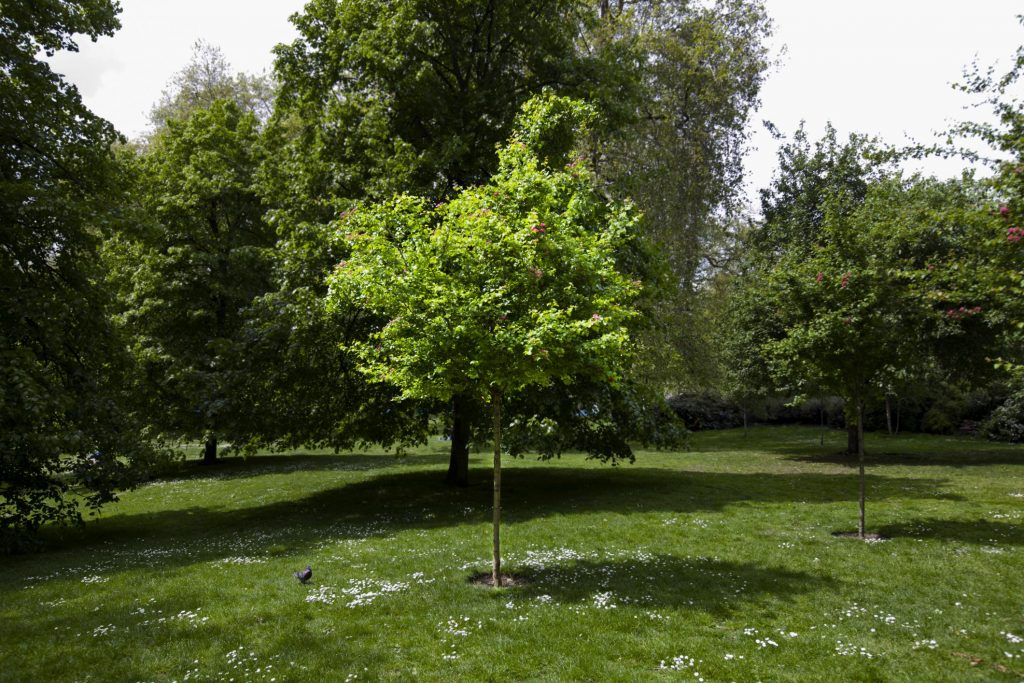 Tree Pruning and Tree Trimming
We define pruning as the removal of unhealthy branches. Trimming, on the other hand, is done to promote healthy growth and improve aesthetic appearance.
Dead branches and roots are best dealt with by pruning. If you happened to read the previous segment about pathogens, you already know at least one reason for this. But pruning is also essential for the overall safety of a tree. Sometimes trees get too close to dangerous things like power lines or unforgiving structures that can impede root growth. These same trees can also inadvertently cause problems that should be nipped in the bud. Power lines can become damaged; branches can scratch against windows, aggressive roots can upset the foundation of homes and businesses. Professional Fullerton tree pruning done by us eliminates these worries swiftly at reasonable prices. Contact (714) 519-2039 for our services.
Trimming helps preserve the beauty of your property and the trees that grow on it. And though this next part may be difficult to believe, it's also healthy for the tree. Overgrown boughs can, with the passage of time, put undo pressure on their trunks and roots. Trees with overgrown boughs can eventually develop a list or even fall over. To maintain proper weight and balance, trimming is essential. The trimming of unnecessary green shoots also promotes stronger, healthier growth in specimens that haven't received care for a long time.
When you contact Tree Services of Fullerton for pruning and trimming, you're contacting a team well-experienced with how trees should look when at their most healthy. Get professional care for your trees today by dialing(714) 519-2039. You'll be glad you did.
Stump grinding is a faster, more efficient way to deal with tree stumps than full-on stump removal. We use several different-sized machines to do this, depending on the size of the stump. Your local tool rental shop may even rent out stump grinding machines, but because they're cumbersome and rather dangerous to operate, we recommend leaving a job like this to the professionals. Once we're on the job site, we'll take care of things in 15 minutes to 2 hours—again, depending on the stump's size. After we're finished, the remaining sawdust can be recycled into things like particle board, wood pulp, or mulch.
Like in that old Silverstein story, tree stumps can provide one with a place to sit and rest. But for most property owners, they're considered blight and are best removed or ground. Stump grinding gets rid of the stump but leaves the roots behind. As mentioned, it's faster than removal. It's also easier on the pocketbook and less impacting on the Jobsite. Some homeowners elect to remove tree stumps chemically, and while it does work, there are a couple of drawbacks. For one, holes must be drilled in the stump to allow for chemical access; for another, the entire process can take up to six weeks.
Tree Services of Fullerton can grind away unwanted tree stumps in less than a single day. We're swift, safe, and fully respectful of your property. Don't let old tree stumps turn your lawn into an eyesore. Call (714) 519-2039 today for expert service.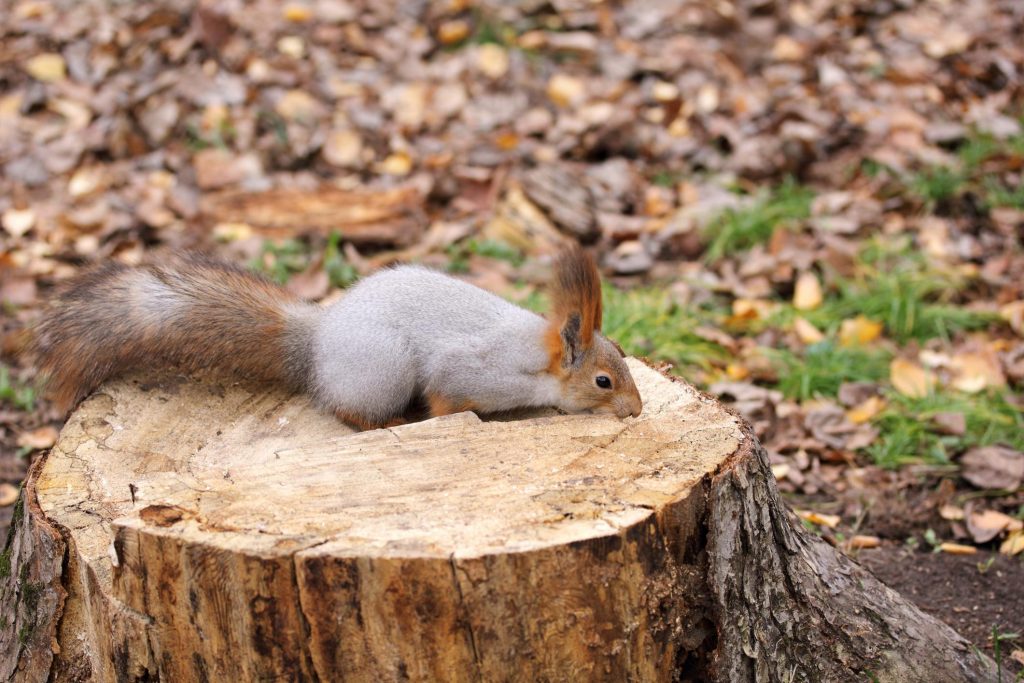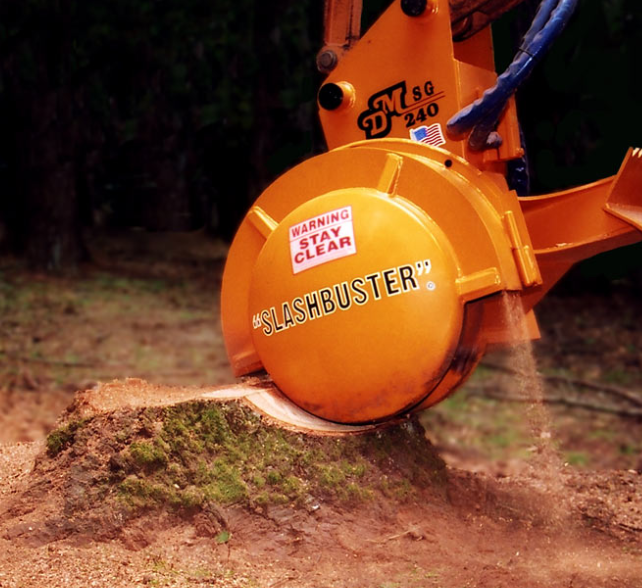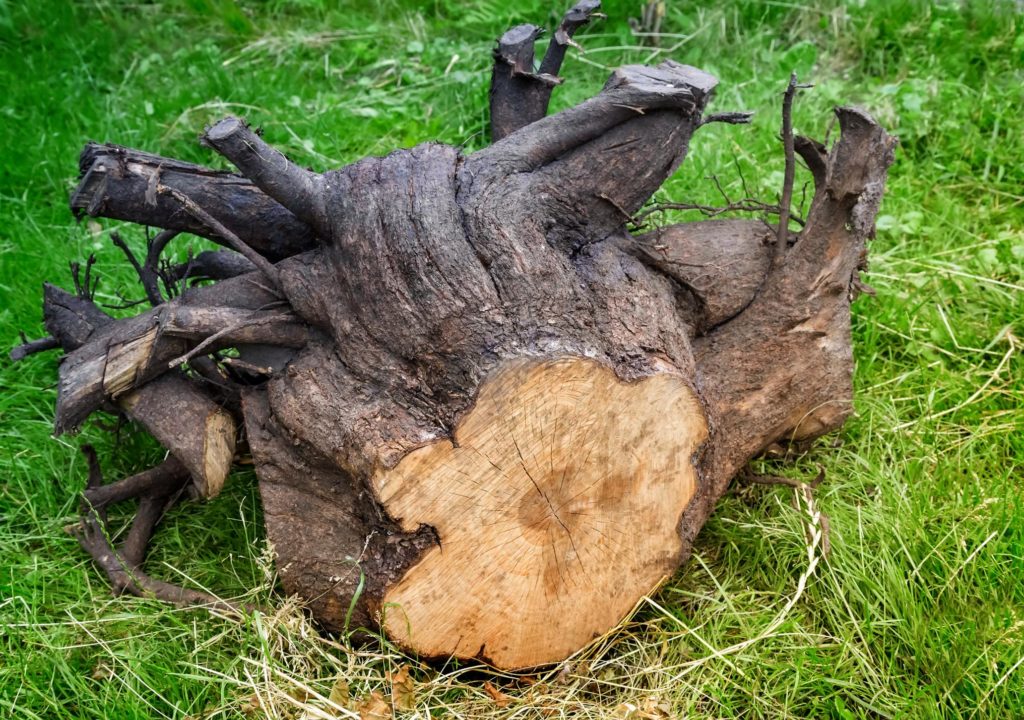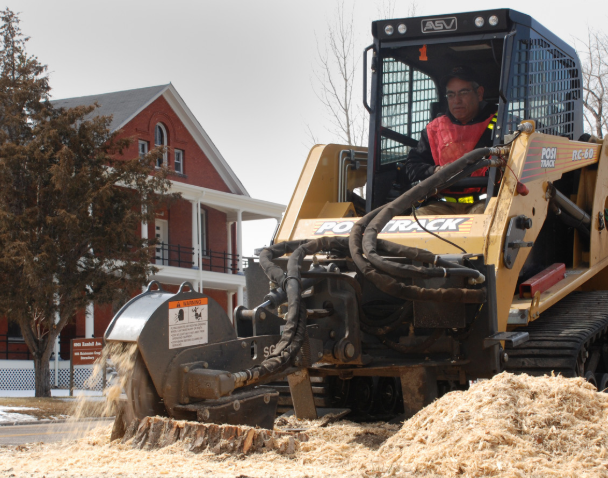 Full stump removal by an expert tree service like us becomes necessary when the roots below the stump need to go, too. In other words, to leave the roots behind means potential problems down the road. These problems could be with the roots impeding upon building foundations or diseased roots that threaten other trees' spread of their illness.
Most stumps go on living long after their trunks are gone. The hazards they create are not limited to what goes on below ground. We could trip over them and could get splinters from their exposed, raw wood. Tree stumps also present a problem for lawn equipment. Aside from causing damage to expensive tools through accidental contact, stumps force property owners to mow around them and leave unsightly, uncared for sections behind.
One more reason to choose stump removal over-grinding has to do with tree replacement. If you're looking to plant a new tree where an old stump is now, everything has to go, including the roots. If you choose to grind instead, the roots can take upwards of 5 years to decay.
Full stump removal is not considered to be a self-reliant job. In fact, it is among the most dangerous jobs one can undertake. Each year, The Tree Care Industry Association (TCIA) reviews about 50 accidents pertaining to non-professionals attempting to conduct stump or tree removal on their own. The tools involved with these tasks are sharp, heavy, and easy to make mistakes with. 
In Orange County, such mistakes are far from necessary, as the experts at Tree Services of Fullerton are more than happy to take care of tree and tree stump removal for anyone who needs it. Don't take chances with deadly tools when safer; more reasonable options exist. Call Tree Services of Fullerton today via (714) 519-2039.
Tree removal isn't a prospect we much like to face. At the top of this page, we talked about how much we care about trees, along with the obligation we feel to give back at least a little of the kindness they show us. But sometimes it has to happen. A sick tree that can't be saved is a potential threat to other trees around it. The virus it carries can be transmitted via pests, root encroachment, or even sap contact. Trees that are already dead should also come down—before they fall down. We provide fast and easy services that are also cheaper in the long run.
Falling trees can damage property or cause physical harm to living creatures. Having them taken down before this happens is an excellent example of preventive maintenance. A sick or dead tree's roots can also cause problems for nearby building foundations, sidewalks, or fences. We learned a ton of skills due to a partnership with treeloppingcairns.com
Tree Services of Fullerton conducts tree removal on a scale that outperforms all other businesses in the industry.  There's a couple of techniques we employ. Which one works best depends on the size of the tree and where it's located. If there's enough space around the tree, we'll cut it straight down and remove its limbs on the ground. In instances where space is a problem, we'll instead need to scale the tree, denuding it of its boughs from the top down.
To prepare for tree removal, clear space around the tree so large trucks and wood chippers can get close. The work usually involves cutting the tree down to a low stump, then having that stump ground or removed. We brought on a specialist who helps do the jobs that we do for tree removal Tustin, check him out and call today for a quote! Contact Tree Services of Fullerton at (714) 519-2039 for the best services.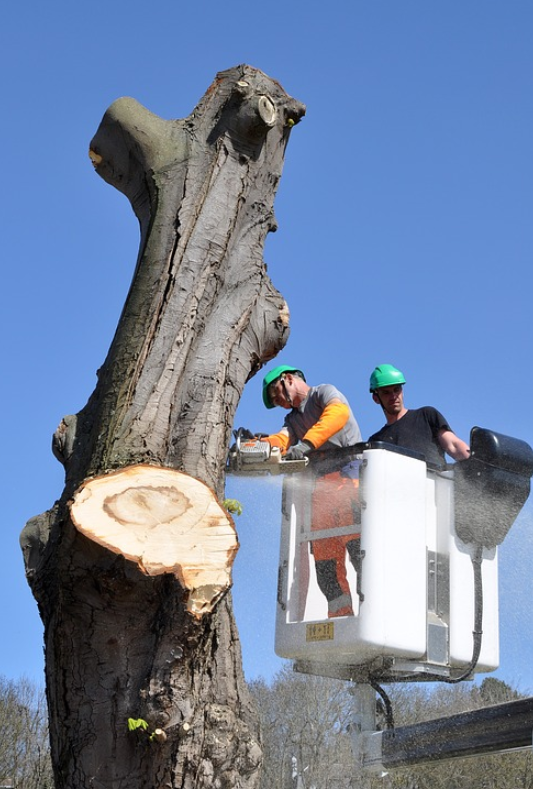 Tree Service of Fullerton is the best company to call when you need tree service. We also serve many areas, including Anaheim, Orange, Brea, Placentia, Yorba Linda, Garden Grove, Whittier, Cypress, West Covina, and Downey. We are a full-service tree care company that can handle any job, from pruning smaller trees to removing large branches. Our expert staff has been trained in proper safety procedures and will always take care of your property with professionalism. Call us today at (714) 519-2039 for a free estimate!
Contact Tree Services of Fullerton
For whichever kind of tree service you may need, Tree Services of Fullerton is here to help. Everything you need for a great job is right here. To find out more, give us a call today at (714) 519-2039.